Embird is a Windows application, so to use Embird on a Mac, additional software must be added.
There are two options:
Use

Parallels and

a Windows OS
Use the Wine application.
Both methods are described here.
Method 1: Parallels and Windows
Embird for Windows can be used also on a Mac with an OS X operating system. However, a Windows operating system must be added to the Mac to allow Embird to run in its native environment.
There are couple of solutions that allow Windows to run on Mac along with OS X. One of them is an application called Parallels Desktop 8 for Mac. Parallels Desktop is available from http://www.parallels.com. Of course, you also need to have Windows 7 or Windows 8 installation disc.
Follow these steps to install Parallels and Windows on the Mac:
Buy license of Parallels for your Mac
Buy Windows 7 or Windows 8
Download and install Parallels on your Mac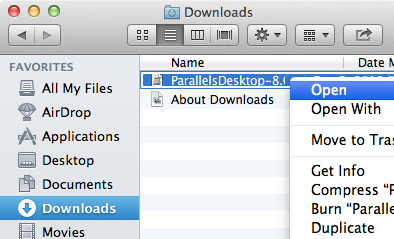 Open Parallels installation file from Downloads
You will be asked to insert Windows disc during installation of the Parallels.
The icon of Parallels with Windows will appear on the desktop of your Mac

Parallels Desktop and Windows 8 installed on the Mac
When you tap the Parallels icon, your Mac switches to the Windows mode. You can now download, install and use Embird for Windows and all its plug-ins just as if you were using PC. Make sure to download proper Embird version. You need 32-bit Embird for 32-bit Windows and 64-bit Embird for 64-bit Windows.

Embird for Windows installed on Mac
* Tested on MacBook Pro with OS X Mountain Lion operating system
Method 2: Wine
1 – Install XQuartz (free of charge)
2 – Install Wine (free of charge)
3 – Download and run the installation file for Embird (32-bit).
Note: The 64- bit Embird doesn't work with the current version of Wine.
4 – Wait until "Wine" finishes its initial setting:
5 – Click the "Setup" button in the installer of Embird:
6 – Choose your language and select "OK" to continue:
7 – Read the license agreement then select "I accept the terms in the license agreement" and click the "Install" button to continue:
8 – Wait until the installation process is finished.
9 – Download launch_embird_on_mac_in_wine.exe and use it to launch Embird. Click the icon with the red wine glass in Downloads and wait a moment until Wine is launched and Embird starts.