Embird Font Engine is a Lettering, Monogram and Clipart plug-in for Embird. It combines an embroidery lettering tool and graphics in vector file format. It creates embroidery lettering from common Windows fonts in TrueType and OpenType format. It is also possible to use it with 3rd party ready-made embroidery alphabets. Because of its vector handling capabilities, Font Engine is able to convert vector clipart or logos created with graphic programs into embroidery designs.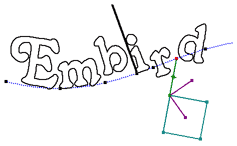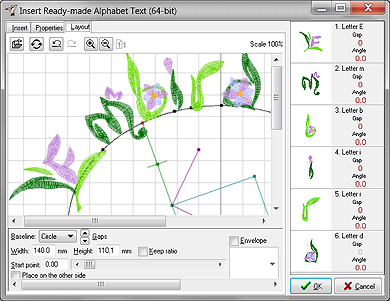 Font Engine has three main usage modes:
Embroidery lettering from TrueType and OpenType fonts
Lettering tool for ready-made embroidery alphabets
Conversion of vector graphics into embroidery designs
Please note: Font Engine does not include any font or clipart. It is a conversion program.
1. Embroidery Lettering from TrueType and OpenType Fonts
Main panel allows the user to select TrueType or OpenType font and type the text you want to convert into embroidery. Next panel (Properties tab) serves to adjust size and other parameters of lettering.
Font Engine can produce plain fill, auto column (satin stitch) and motif fills and sample, satin and appliqué outlines for text.

Fill Exterior option allows the user to invert filled areas of text.

Pattern, Wave, Gradient and other effects like contour or circular fill can be applied to plain fill of text.

Font Engine allows the user to place text on line, ellipse and other baselines and also to deform it with use of an envelope.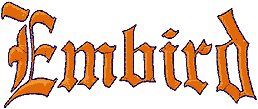 Lettering may have single stitch, sample, satin stitch or appliqué outline.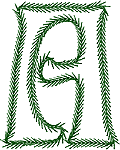 Auto Column (satin stitches) fill of text produces lettering looking almost as if it was digitized by a human digitizer. Font Engine uses a large base of digitizing knowledge and an artificial intelligence to convert fonts into satin stitches.
Satin stitch lettering of a large size should be used with the Pattern option on, to avoid too long stitches and to add texture to a large stitched areas.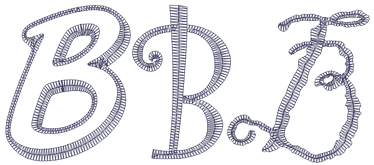 Each character in a text can be moved, rotated, skewed and scaled separately to create unique lettering effects. Use the Symmetry options for easier adjustment of lettering envelope. Many predefined envelopes are included.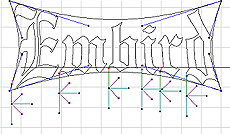 2. Lettering Tool for Ready-Made Alphabets
One of the most popular ways to create embroidery lettering is to buy ready-made embroidery font (alphabet) and compose your lettering from characters in the font. This may be a tedious job if you want to align lettering on a circle or create a longer text. Ready-made fonts are delivered in stitch files, usually one letter per file. The user has to import the stitch files one-by-one and put them together to create the text label.
Ready-Made Alphabets mode of Font Engine allows the use of a convenient lettering tool with 3rd party or custom letters. It is no longer necessary to assemble such lettering manually. Simply import all letter files at once, index letters and use them in the same way as common Windows fonts. Work with text and especially the lettering layout process becomes much easier.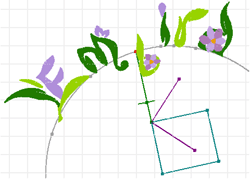 Custom letters are not limited to a single color or style. You can use any number of colors, cross-stitch patterns or anything that stitch file supports and Embird can import.
Some features like nearest-point connections or outlines are not applicable to the ready-made alphabets. Resizing is available, but not recommended as stitch file quality may decrease when the size changes.
3. Vector Graphics
Font Engine functionality goes beyond the fonts. It can convert EMF, WMF and CMX vector graphics to an embroidery file. This function allows the user to import designs from drawing programs like Corel Draw or Adobe Illustrator. It is typically used for logos and clipart designs.

The embroidery process imposes additional requirements on the design, especially proper object order, connections, overlays and layers. Therefore, some editing of vector designs in Embird Studio is usually needed to produce good embroidery from these files.