Studio is a Digitizing Plug-in for Embird Software.
While the basic Embird program works mostly with stitch files, Studio uses vector objects for ease of design creation.
The main concept of digitizing in Studio is to draw vector outlines of respective objects and fill them with various types of stitches in the same way you would fill objects with color in a graphics program.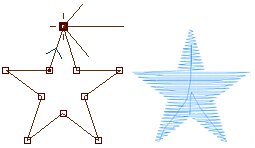 Studio contains two parts, each of them is optional
Sfumato Stitch 
Convert photos to embroidery design. Portraits, landscapes, etc. Fill stitches are generated to approximate the photo.

Digitizing Tools
See Carolyn Keber's Step by Step Guide to Digitizing Tools
Digitizing of logos and fancy designs, lettering, auto-tracing, freehand, conversion of vector files into embroidery.

Studio is an optional plug-in program for Embird.  Registration for the basic Embird program is required before you can use Studio. Upgrade from previous versions of Studio is free of charge.